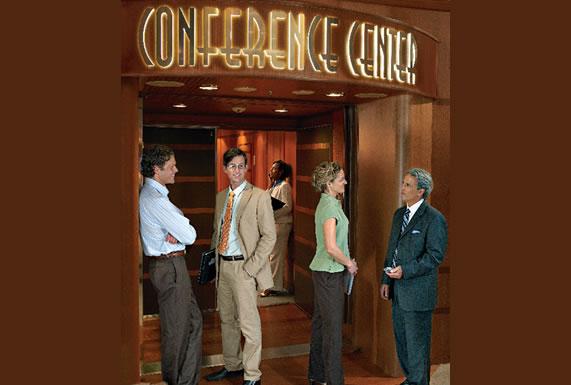 Services you will receive when you plan your next conference with CruiseMeetings:

Meeting Management & Assistance: There is no charge for our meeting management services. CruiseMeetings has planners, educators and registration agents to assist you.

CME Accreditation: Continuing Education, Inc., our parent company, can handle the accreditation for your meeting if you require this service. You will find our fees to be very reasonable and the CME Accreditation department to be professional and courteous.

 Joint Provider Services: ACCME (for CME), ANCC (for Nursing) , APA (for psychology), AAPA Category 1 for Physician Assistants, CLE for attorneys, VET CE for Veterinarians, ADA CERP for Dental and ASWB ACE for Social Workers.

Site Selection: Since we do nearly 100 cruise meetings each year, we can use our experience to recommend the cruise vessel that will best serve your needs. Our buying power with those cruise lines is of great advantage to your overall budget.

Site Visit: We can arrange and accompany you on tours of prospective facilities while several ships are in port, so that you can tour them and make final decisions about your ship selection.

Marketing: Our in-house graphics department will design a full color brochure promoting your conference. We can arrange all printing and direct mail through our bonded mail house, at a cost. We can also provide you with flyers to be included in your newsletters, direct mail, color shells and "Save the Date" post cards.

Planning & Agenda: Our in house planner will work with you to organize your agenda to ensure that your meeting flows well. We help you to achieve all of your meeting goals while allowing the conferees to also enjoy everything that the cruise experience has to offer.

Sponsors & Exhibits: We will arrange the shipping and delivery of promotional items. We have solutions to allow your sponsors the highest visibility possible without impacting the educational content of the meeting.

Registration: Unlike hotel meetings, cruise meetings require a reservation service since there are so many categories of rooms from which to choose and a good deal more travel detail required. We provide a toll free registration and documentation service to you and your members. We field the calls, send out fulfillment materials about the port and the ship, complete the registration and provide you with individual receipts for tax purposes.

Travel Arrangements: We can provide airline tickets, rental cars and any other additional travel arrangements or accommodations your members may need in preparation to attend your conference.

Meet & Greet: We can arrange a meet and greet service to welcome your guests and a complete transfer of the luggage to the ship for a small per person fee.

On Site Management: Our staff will board the ship prior to the beginning of the meeting to log in all materials that have been shipped and be sure they are ready for use. They then travel with you on the ship to be sure that every detail is implemented as planned.
Our many years of experience and expertise can smooth the way for all of the special events you wish to provide your members. In short, we will work with you from beginning to end to flawlessly carry out a successful and memorable conference at sea. You and your members will love CruiseMeetings. Call us Toll Free: 800-422-0711